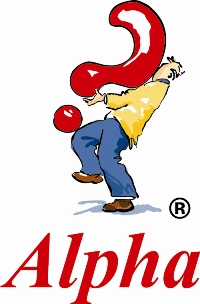 ALPHA
Is a weekly discussion group over a delicious FREE dinner in a friendly atmosphere.
In life's journey, we have all needed answers to many questions. Sometimes losing a job or a loved one, loneliness or perhaps just the feeling that something is missing causes us to have these questions.
Can we really have answers to these and other questions?
WHAT HAPPENS AT ALPHA?
When you arrive, we sit together and eat a delicious FREE dinner and simply get acquainted.
After dinner, we watch a brief video lesson regarding such topics as:
Is Christianity relevant to my life?
Who is Jesus?
Why & How should I read the Bible?
Why & How do I pray?
What about the Holy Spirit?
How can I overcome evil?
Does God heal today?
What about the Church?
After each lesson there is a time for small groups at each table to get together and address any questions or issues individuals may have. This gives an opportunity to get to know each other better and to learn together.
ALPHA IS FOR EVERYONE!
People who feel they need a new beginning

Catholics

Protestants

People of all faiths and non-believers
Alpha is being used by Catholic & Protestant churches worldwide!
HOW TO REGISTER:
Alpha meets in the fall and spring every Monday evening from 7:00 p.m. to 9:30 p.m. for 10 weeks
Call Gateway City Church's office at 718-921-4673 or email us at gcc@gatewaycitychurch.net
(We always like to know for how many to prepare but walk-ins are fine, too.) It's that simple!